THE 13TH EARL OF KINTORE (1939 - 2004)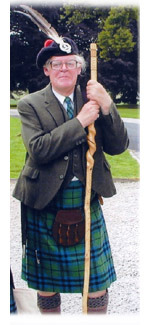 Clan Keith lost a remarkable leader on October 30, 2004 with the unexpected passing of Michael Canning William John Keith, The 13th Earl of Kintore.
The 13th Earl of Kintore was born in 1939 and lived in Scotland and South Africa before going for education to Eton and the Royal Military Academy Sandhurst. He served with the Coldstream Guards in London, Kenya,and Oman. Retiring in 1963, he became a stockbroker in London as well as territorial soldier serving in England and Canada. He returned to Scotland in 1965 as an insurance broker and apart from a brief spell in London to get married, he remained in Scotland for the rest of his life.
The Earl was a devoted husband and father. In 1972 he married 'the love of his life', Mary, daughter of the late squadron leader Elisha Gaddis Plum of New Jersey. They had two children together, the 14th Earl of Kintore, James William Falconer Keith, and Lady Iona Keith.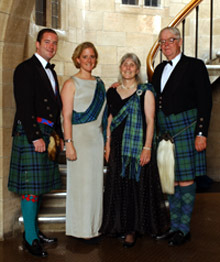 On the death of his father, the 12th Earl, in 1989, the 13th Earl became Chief of Clan Keith, a role which he "ably and vigorously assumed". He supervised the formation of Clan Keith national societies in Canada and Australia, and made several appearances as Guest of Honor at North American Highland Games: Alexandria, VA - 1995; Loon Mt, NH - 1997; Glasgow, KY - 2000; Stone Mt., GA - 2003; Seattle, WA - 2004; and Fergus, Canada - 2004. In 2002 the Earl and Countess organized a worldwide, 5-day 'Millennial Gathering' of Keiths in Scotland that included tours to many historical Keith sites in Aberdeen, Peterhead, Keith Hall Estate, and other areas of North-east Scotland.
The 13th Earl held a seat in the House of Lords from 1989 until 1991. He served on several Committees including Crofters, British Waterway, and relations between Central and Local Government. He served as President of the Institute of Certified Bookkeepers, and received an honorary degree of law from Marischal College. He passed away at home on October 30, 2004, leaving behind a legacy of plain-spoken honesty and a love for family and friends.