THE 12TH EARL OF KINTORE (1908 - 1989)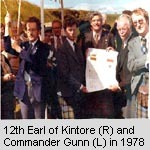 The 12th Earl, Ian Keith, was born in 1908 and educated at Eton and the Royal School of Mines (now part of London University). He inherited the Earldom from his mother, The Countess, who died aged 100 years and one day, in 1974. (He had already inherited the title of Viscount Stonehaven on his father's death in 1941). She was in the Guinness Book of Records as the oldest living Peeress.
The 12th Earl had a varied life as a dispatch rider for the Great Western Railway, during the General Strike, working as a laborer in Canada, and also in a lumber yard, helping to build the Dartford Tunnel. In 1935 he married Delia Loyd, and they had three children: Dianna, Michael and David. He was a major with the Royal Marine Engineers during the war and afterward in 1947 took his whole family to South Africa working in Johannesburg in construction and later in Swaziland on a sugar, coffee and cotton ranch. On their return to Rickarton in 1952 he ran the Estate taking particular interest in forestry which was a life long interest. He served for 10 years on the Council of Europe. He served on the old Kincardine County Council for many years (ending as Convener), and on the Grampian Regional County Council (as Chairman of Water Services). He was also Deputy Lieutenant of Kincardineshire. He was noted for being plain talker - even when it crossed parties lines. He and Delia moved from Rickarton Estate to Keith Hall in 1973.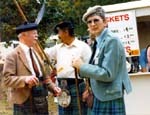 The 12th Earl of Kintore worked closely with George Newberry, Linton Keith. Jim Falconer and Ned Buxton during the formative years of the Clan Keith Society USA. The Society was founded by George and John Newberry at Grandfather Mountain, under a Bond of Manrent from the 12th Earl.
In 1977 he commissioned George Newberry as Lieutenant to the Chief. In 1978 the 12th Earl signed a "Covenant of Friendship for All Time" with Clan Gunn after about 600 years of feuding. As Chief of the name Keith, he was Guest of Honor at the Stone Mountain Highland Games near Atlanta in 1980; the same year that the Society was granted complete autonomy.
The Earl passed away in 1989, and was succeeded by his son Michael, the 13th Earl of Kintore.
Sources: "The Keiths" by the Countess of Kintore, Keith & Kin, Second Quarter 2001.
"The Clan Keith Society USA, Inc Membership Tri fold", 2005.